Street Sweeping

- 2023 HOLIDAY SCHEDULE -
*This does not alter the standard Street Sweeping Calendar. Make-up days are only for providing service to those zones affected by a GWSD holiday closure.*
| | | | |
| --- | --- | --- | --- |
| Holiday | Date of No Service | Zone | Make-up Day |
| President's Day | Monday, February 20 | | Tuesday, February 21 |
| Memorial Day | Monday, May 29 | | Tuesday, May 30 |
| Veteran's Day | Friday, November 10 | | Tuesday, November 14 |
| Thanksgiving | Thursday, November 23 | | Tuesday, November 28 (morning) |
| Day after Thanksgiving | Friday, November 24 | | Tuesday, November 28 (afternoon) |
| Christmas Eve (observed) | Friday, December 22 | | Tuesday, December 26 (morning) |
| Christmas Day | Monday, December 25 | | Tuesday, December 26 (afternoon) |
---
Since 1963, Goleta West Sanitary District has been providing street sweeping service for Isla Vista and western Goleta.
The District was the first South Coast agency to implement a street sweeping program that removes trash and toxins from storm water runoff that flows into our creeks, wetlands, ocean and beaches. Unlike many government agencies, Goleta West owns and operates a street sweeper, making this service very reliable and flexible. Eastern Goleta street sweeping is contracted out by the City of Goleta.
Have any comments or suggestions about your Street Sweeping Services? This email address is being protected from spambots. You need JavaScript enabled to view it..
Learn more about our Adopt-a-Block program by visiting our Environmental Programs page.
Schedule (See Street Sweeping Calendar HERE)
Map and schedule updated October 2011.
Please remember to remove your car from the street on the day sweeping is scheduled for your neighborhood. Regular sweeping prevents debris from entering storm drains and ocean pollution.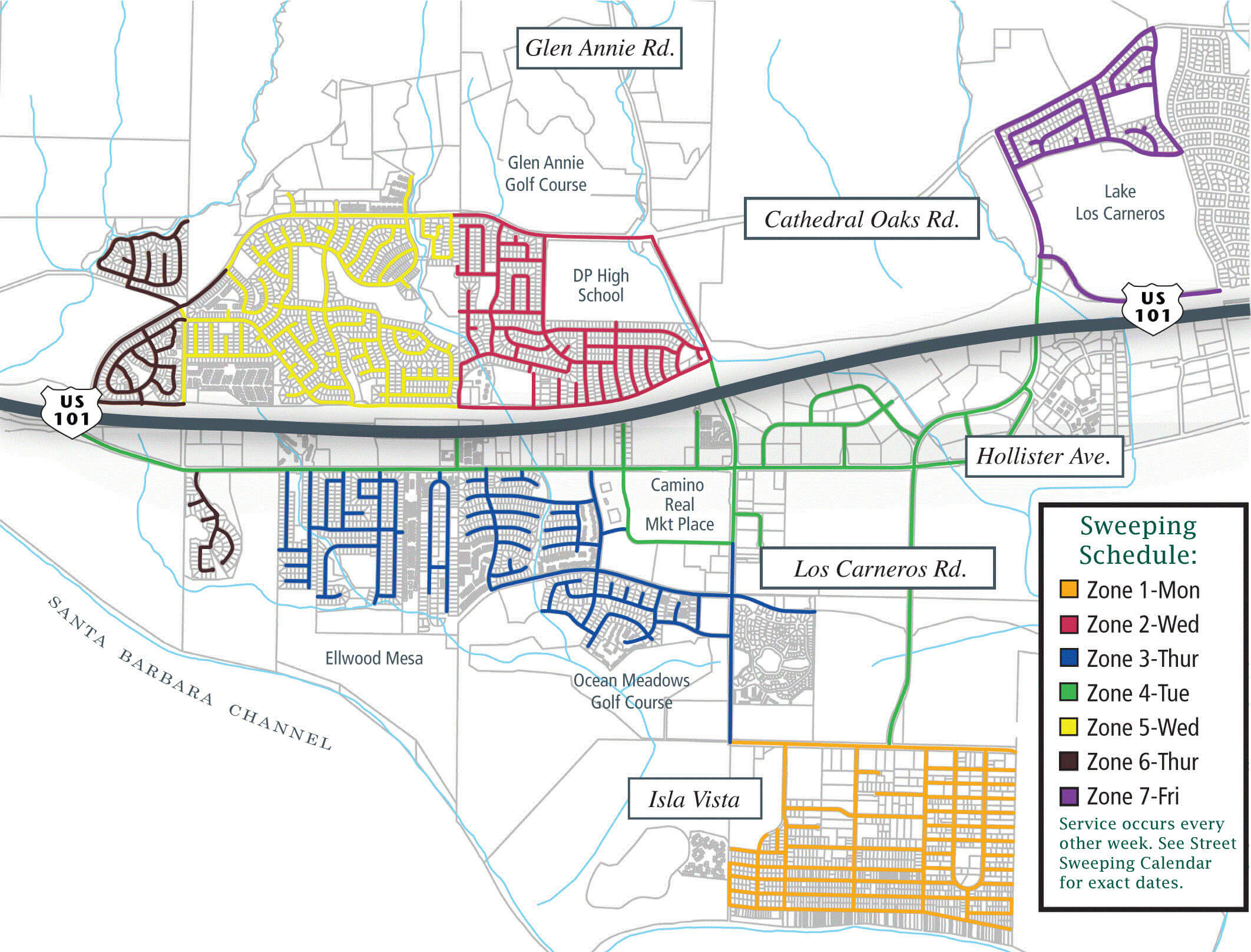 Download a copy of our Street Sweeping Map here: